Simvoly offers a sales funnel platform that can assist you in finding the solution you are looking for.Simvoly is an all-in-one platform known for its flagship product, a user-friendly website builder, which allows users to create a functional website with ease using customizable templates and a drag-and-drop interface.
This article provides an analysis of the features, advantages, and disadvantages of Simvoly to help you assess its suitability for your website's needs.
Simvoly is a website builder that provides a user-friendly platform for creating websites, even for individuals without programming or design skills.
Simvoly, a website builder founded in 2016 by a group of entrepreneurs, has gained popularity in the market and has a global user base of thousands.
Simvoly offers a range of capabilities, including website creation, funnel building, and various features for managing online businesses.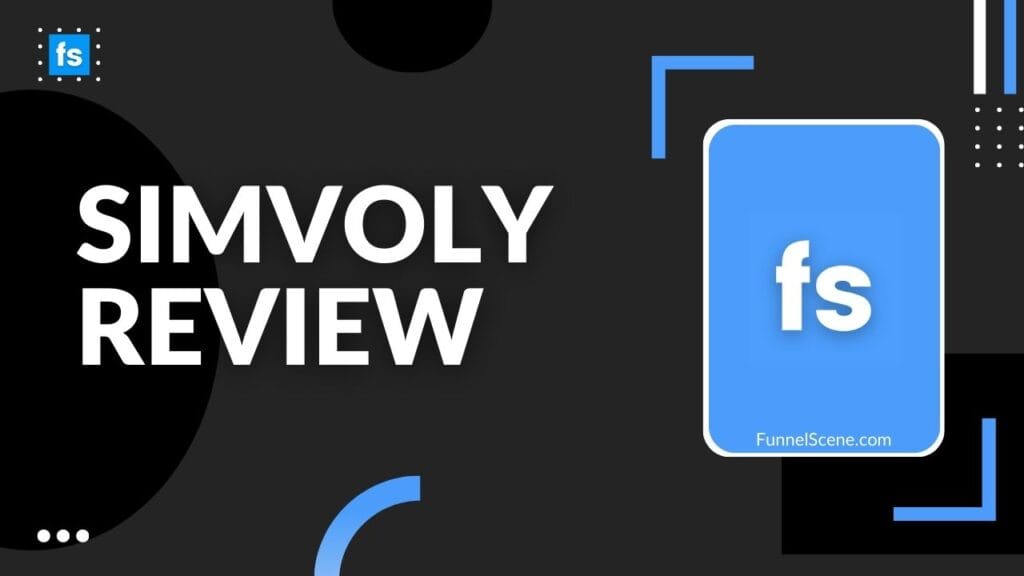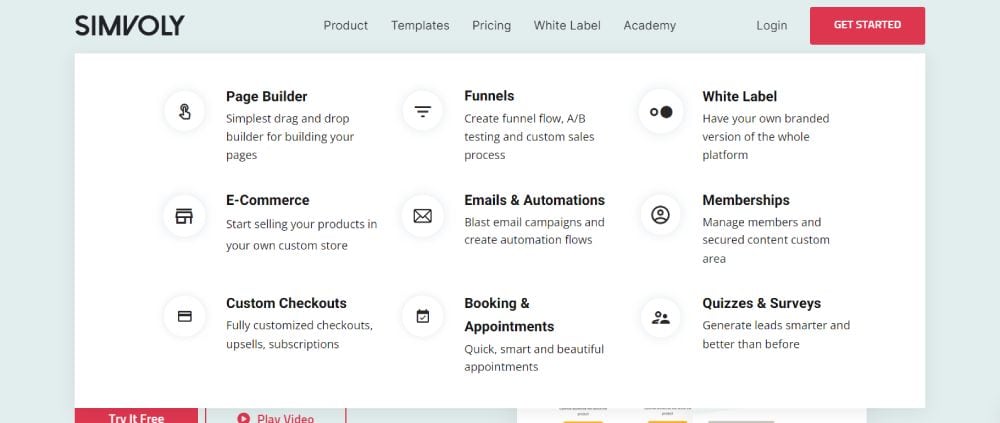 Simvoly provides a range of features that enable users to create professional-looking websites. Here are some notable features of the platform:
Drag-and-Drop Interface
The Simvoly interface simplifies the process of adding and arranging elements on websites, making website creation and editing more accessible to all users, regardless of their technical skills. It also ensures a high-quality design.
Customizable Templates
Simvoly offers a variety of customizable templates for website creation. These templates are designed for various industries such as e-commerce, photography, and fashion, and are all fully responsive.
eCommerce Features
The Simvoly eCommerce platform offers users a range of tools for selling products online, including features such as product management, order tracking, payment processing, customized checkout solutions, and additional tools like 1-Click Upsells and Order bumps.
Email Marketing & Automation
Simvoly offers the necessary marketing tools for businesses to promote themselves through email marketing. The drag-and-drop email builder provided by Simvoly simplifies the process of designing email campaigns or newsletters.
Simvoly provides users with the capability.
SEO Optimization
Simvoly provides users with tools to enhance their website's search engine optimization. These tools encompass meta descriptions, keywords, and other on-page SEO elements.
CRM & Memberships
Simvoly offers a free CRM feature that allows you to capture and store lead data, create courses, and manage student subscriptions.
Appointment Scheduling
Simvoly provides an appointment scheduler feature that enables interested visitors to schedule appointments with you. These appointments can be easily captured and managed in your CRM system.
Survey Creator
Surveys are an effective method for gathering leads as they provide valuable information to potential customers. Simvoly acknowledges this and offers the option to integrate quizzes or surveys into your pages.
The quiz platform offers various features including quiz layouts, A/B testing, personalized quiz result pages, and additional functionalities such as checkout integration and user tagging based on their answers.
App Integrations
Simvoly offers integration with various third-party tools, including marketing tools like Mailchimp, AWeber, and Moosend, as well as payment processing software like Stripe, PayPal, and PayU. There are additional apps available for connection on the list.
Analytics
Simvoly offers an analytics tool that provides users with data on their website's performance, including website traffic, page views, and user engagement.
White Label Reseller
If you are an agency or hosting company interested in selling software as a service, you have the opportunity to become a Simvoly white-label reseller with your own branding and style to meet your needs.
Simvoly offers a variety of features including customizable pricing and plans, a comprehensive all-in-one platform, and support for 26 languages including Spanish, German, French, Italian, Hungarian, Norwegian, Dutch, and Danish, among others.
If the language you want is not available on the software, you can reach out to Simvoly for assistance in accessing your desired language.
Additionally, the Simvoly Academy offers over 60 free tutorial videos to assist you in learning more about white labeling.
We will analyze the pros and cons of Simvoly and aim to provide a software summary.
Pros
Ease of Use: Simvoly's drag-and-drop builder is user-friendly, even for individuals without technical expertise. The platform interface is straightforward, making it easy for anyone to navigate. This is one of the key benefits that software can offer its customers.
Responsive Design: Simvoly offers over 500 templates that are fully responsive, ensuring optimal display on any device. This is important due to the growing number of users accessing websites through smartphones and tablets.
eCommerce Tools: Simvoly's eCommerce tools provide an easy solution for users to establish an online store and commence selling products. This is particularly beneficial for individuals who are interested in monetizing their websites or offering physical or digital goods for sale.
Marketing Tools: Simvoly's marketing tools assist users in enhancing their website's visibility and driving traffic to their site, which is essential for increasing website traffic and improving website performance.
Customer Support: Simvoly provides customer support with a responsive team available 24/7 to assist users with any problems.
Cons
Although Simvoly is a reliable platform, it does have some drawbacks.
Limited Design Flexibility: Users may find limited design flexibility with Simvoly's templates, which can be frustrating for those seeking complete control over their website's design.
Limited Third-Party Integrations: Simvoly offers a limited number of third-party integrations compared to other website builders, which may restrict the platform's capabilities. However, it does allow integration with Zapier, providing access to over 3,000 apps.
Limited payment gateway options: Simvoly provides a limited selection of payment gateways, which could be a drawback for certain users.
Limited customer support options: Although Simvoly provides good customer support, users may find the support options to be limited, such as the absence of phone support.
No Free Plan: Simvoly does not offer a free plan, but they do provide a 14-day free trial for individuals interested in testing out the platform.
How Does Simvoly Compare to Other Website Builders?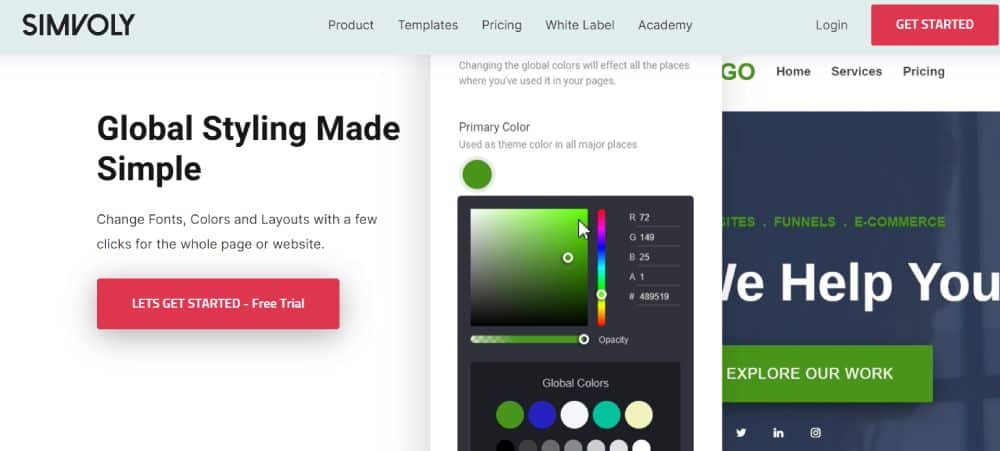 The Simvoly website builder offers a moderate level of customization compared to other website builders. While it may not have the same level of customization as WordPress, it is more user-friendly for beginners. Additionally, it allows users to create marketing funnels, a feature that is not available in some other website builders.
The White Label platform offered by Simvoly allows users to function as their own agencies. With this platform, users have the ability to create websites for clients or allow clients to create their own websites.
How is Simvoly better than Kartra and ClickFunnels?
Simvoly Vs Kartra
Both platforms on getapp.com have similar ratings, but Kartra has a higher number of user ratings, indicating its popularity.
Kartra and Simvoly are two marketing platforms that offer various features to help businesses generate leads. While Kartra's basic subscription starts at $99 per month, Simvoly provides a more affordable option starting at $12 per month with a free trial that does not require a credit card.
Kartra and Simvoly are two different platforms. Simvoly is an all-inclusive platform that caters to a wide range of users, from freelancers to agencies. It offers features like landing page creation, sales funnel management, and website building. On the other hand, Kartra is primarily focused on lead generation and does not offer a free trial.
Simvoly is easy to use and has a simple design. It offers tutorials in its academy portal to help users navigate the platform. The support team is responsive and efficient, unlike Kartra's support group. Simvoly also offers access and permissions, which Kartra does not have.
Simvoly Vs ClickFunnels
Both platforms have comparable ratings, but ClickFunnels has a larger user base because it is widely recognized as a sales funnel platform.
ClickFunnels and Simvoly are both online tools that assist businesses in creating effective sales funnel pages and websites. While ClickFunnels has been around longer, Simvoly offers a more affordable option. Both platforms provide a free trial, and Simvoly's Pro plan is priced lower than ClickFunnels' Platinum plan.
Simvoly and ClickFunnels both offer comprehensive solutions for businesses looking to enter the eCommerce space. While Simvoly provides a range of features, ClickFunnels focuses specifically on creating and converting lead pages.
ClickFunnels lacks a white page builder, while Simvoly offers one.
Now, we have reached the last section of our Simvoly Review.
Simvoly offers three distinct services with various plans. These paid services can be combined or used separately.
Website and funnels builder
White label builder
Email marketing
We will address the pricing of each item individually.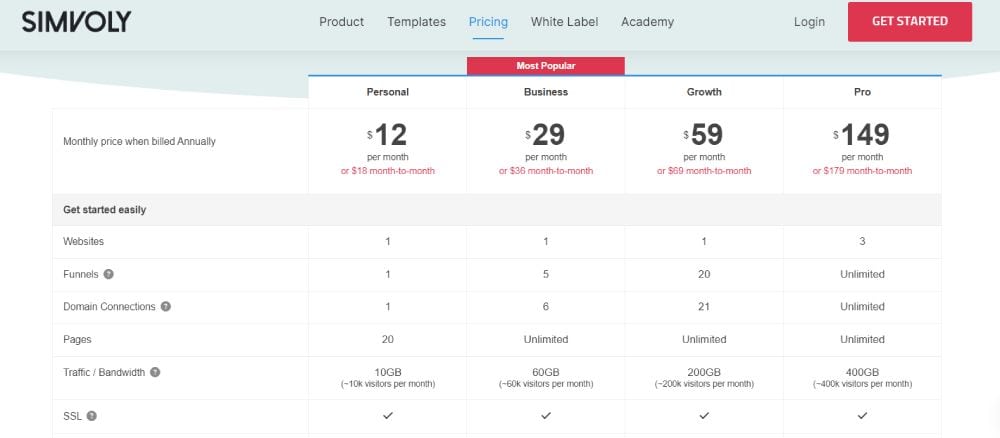 Website and Funnels Builder Price Plans
Personal Plan:
This plan is the most basic option and has a cost of $12 per month when paid annually or $18 per month when billed monthly. It includes –
There is one website.
There seems to be one funnel.
There is a connection between one domain.
The document consists of 20 pages.
The bandwidth is 10 GB.
SSL certificate.
A CRM tool is a customer relationship management tool.
There are 100 subscriptions.
There are 1200 emails.
A/B testing is a commonly used method in data analysis.
Analyzing funnel data.
1 booking and appointment operator
Book or schedule easily.
Complete online store.
There are 5 products.
Membership site.
No fees.
Chat support is here.
There are two administrators.
Business Plan:
This plan is popular and has a cost of $29 per month when billed annually, and $36 per month when billed monthly. It includes –
There exists a website.
There are five funnels.
There are six domain connections.
There is an unlimited number of pages.
The bandwidth is 60 GB.
SSL certificate.
The CRM tool is a useful tool for managing customer relationships.
A platform for creating quizzes and surveys.
There are 100 subscribers.
There are 1200 emails.
The practice of A/B testing
Analyzing funnel data.
The checkout process involves funnels.
Bump provides offers.
Upsell and downsell options with just one click.
2 operators available for bookings and appointments.
Book and schedule appointments with unlimited services.
Complete eCommerce solution.
There are 100 products.
There are membership sites available.
Recurring payments feature.
No transaction fee.
Chat support
There are 5 admins.
Growth Plan:
The plan is available at a price of $59 per month with annual billing and $69 per month with monthly billing. It includes –
The business plan includes everything.
There is a website available.
There are a total of 20 funnels.
There are 21 domain connections.
The bandwidth is 200 GB.
There are 500 subscribers.
There are 6000 emails.
5 booking and appointment operators.
eCommerce has unlimited commerce.
There are 21 administrators responsible for managing the website.
Pro Plan:
This plan is comprehensive and includes all the necessary features for a business at a cost of $149 per month when billed annually and $179 per month when billed monthly. It provides –
The growth plan provides various benefits.
There are three websites.
There are an unlimited number of funnels available.
There are no limits to the number of domain connections.
The bandwidth is 400 GB.
The channel has reached a milestone of 1000 subscribers.
There are 12,000 emails in email marketing.
There are 10 operators available for booking an appointment.
There are 100 administrators responsible for managing the website.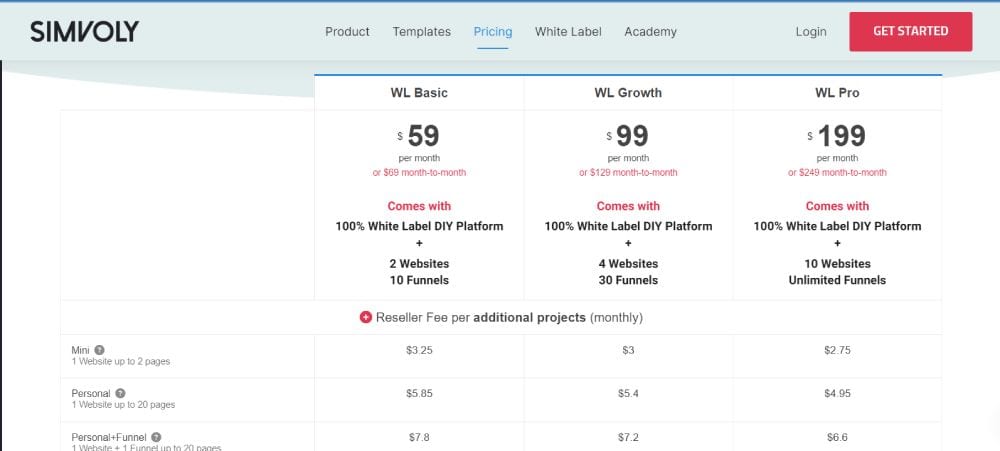 WL Basic Plan
The basic plan is priced at $59 per month when billed annually or $69 monthly. It includes two websites and ten funnels, which are included in the package without any additional charges.
WL Growth Plan
The growth plan is priced at $99 per month when billed annually or $129 per month when billed monthly. It includes four complimentary websites and thirty complimentary funnels.
WL Pro Plan
The pro plan is available at a price of either $199 per month when billed annually or $249 per month when billed monthly. It includes ten complementary websites and an unlimited number of free funnels.
In addition to these plans, the White Label Builder category provides additional paid features that can be billed per project for an extra fee. There are various combinations of automation, email marketing, websites, and other types of add-ons available, starting at $2 per month depending on the plan (basic, growth, or pro) you select.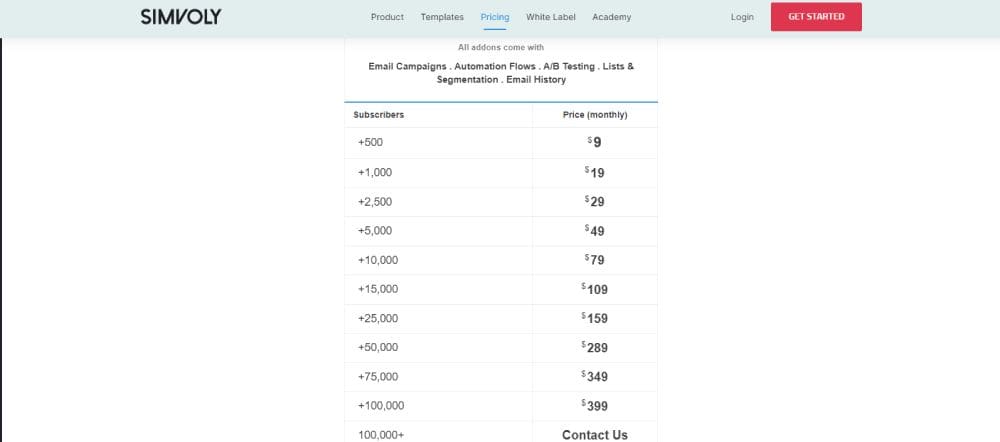 The emails and automation category provides a range of services, including email campaigns, A/B testing, automation flows, lists and segmentation, email history, and more. The pricing for each service varies depending on your selection.
The company offers different pricing plans depending on the number of subscribers, starting at $9 per month for 500 subscribers and ranging up to $399 per month for 100,000 subscribers. For pricing options beyond that, it is recommended to contact their team for more information.
Each subscriber will receive twelve emails per month.
Simvoly is a website builder that provides users with a wide range of features and benefits.
The website builder has a drag-and-drop feature and responsive design, making it user-friendly for creating professional-looking websites. Additionally, it offers eCommerce and marketing tools to help users monetize their websites and increase traffic.
However, some users may find Simvoly's limited design flexibility, third-party integrations, and payment gateway options to be limiting.
The suitability of Simvoly for your website needs ultimately depends on your specific requirements and preferences.
This concludes the article, and we hope you found the information about Simvoly informative. We look forward to the next article.
Frequently Asked Questions
Is Simvoly any good?
Simvoly is a platform that provides a user-friendly experience for creating funnels, websites, and online stores. It is suitable for beginners in online marketing but may be lacking in advanced features.
What can Simvoly do?
Simvoly offers a variety of tools for website building, sales funnels, and online stores. Additionally, it provides features for automating email campaigns, conducting CRM activities, and managing appointments and online bookings.
Where is Simvoly based?
Simvoly is an online website builder and digital marketing company owned by Stan Petrov, headquartered in Varna and Plovdiv, Bulgaria. The company provides a comprehensive suite of solutions for businesses of all sizes, from small businesses to global enterprises. Their goal is to help business owners build their online presence quickly and easily while providing powerful tools to increase visibility and engagement with customers.
Is Simvoly free?
Simvoly is a paid platform with a starting cost of $12 per month. However, you can try it out for free for 14 days to determine if it meets your needs.
Simvoly is a comprehensive website builder that makes it easy to create stunning websites without any coding knowledge. It provides an easy-to-use, drag-and-drop interface with an array of customizable features and professional templates that can be used for any type of business or personal website. It also offers additional services such as domain registration, hosting, email marketing, and security services.